What to look out for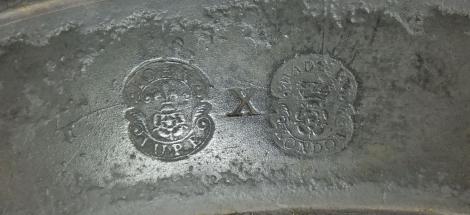 New collectors learn by experience but it is useful to look out for.
Condition
The better the condition of any piece, the more desirable it is. This does not mean to say that there should not be signs of use or wear, which in themselves add to interest. It is more important to look out for damage and repairs, for example handles and lids in hollow-ware that have been repaired or replaced or holes that have been filled in on flatware.
Again, repairs can be acceptable, especially on rare items but the collector should be aware and if possible show pieces to other collectors for more expert opinion.
Marks
Maker's marks, verification marks and ownership marks all add tremendous interest and often value to any item.
Where to buy pewter
Specialist dealers
There is a small number of specialist dealers in pewterwares. These dealers generally know their subject and offer reliable pieces.
Auctions
The Society holds an auction at both main meetings of the year. Here, members can bid for a variety of wares and publications offered by other members. This is a good source of items and there is usually plenty of time to examine pieces and discuss them with fellow members.
Pewter can also be found at regular auction sales. Special pewter auctions are quite rare, but pewter lots turn up in general sales and sales of oak and country furniture. New collectors should be aware that only a couple of auction houses have a pewter specialist, so cataloguing can be unreliable and should never be taken at face value.
Ebay
Lots of pewter is for sale on this and other auction sites. Very much a case of caveat emptor since, although vendors do not necessarily set out to deceive buyers, experience has shown that the majority of pieces are incorrectly described. Nevertheless, good purchases can be made.
Antiques Fairs, Antique Shops, Charity Shops and Car Boots
These are found all over the country – lucky finds are unusual but there are often run-of-the-mill items to be found which a new collector may be keen to add to a growing collection. Unless the stallholder or shop keeper is a pewter specialist, one should be sceptical about his or her knowledge.